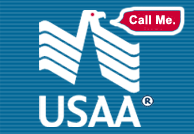 If you're curious why I've been writing about banks so much lately, here's your answer. After reading IWTYTBR and realizing I really shouldn't have to do business with a bank I truly despise (*Cough* Chase) because there are way too many choices out there to not be satisfied by your bank, I decided to make a change. I have been a reader of Budgets Are Sexy for a couple years now, and J Money is a huge advocate of USAA Bank. I thought if they are good enough for him, I would give them a shot. I did a little research about the services they offer, and they do seem to meet my needs. Here are the details of my switch and what I have experienced as one of their customers thus far.
USAA's online interface is sleek and sexy. Using it was completely painless and I actually had to retrain my brain a little bit to look in the obvious places for things I needed, because finding them in my previous banks online interface was so difficult. Opening an account with them took less than ten minutes, and I was good to go. During the process, I was able to set up an ACH connection from my previous bank, and transfer the requisite $25 into the USAA checking account.
Another thing I found really great about the USAA online interface is that all of the little things that you sometimes have to do such as activating a debit card, changing your debit card pin or even ordering checks are easily accessible. You don't have to call customer service or anything, you can just hit a couple buttons and you're done. I also love that USAA has your USAA number, account number, and routing number all available in your online account so you don't have to actually have checks to set up certain things inevitable in your financial day to day tasks.
USAA's mobile app for Android is awesome. I was surprised because the banking apps I have used before sucked so bad, and my previous bank didn't even have an app. From the USAA mobile app, you can check account balances and activity, transfer money between accounts, pay bills, and even deposit checks using your phone's camera*. The app also includes some cool tools like an ATM and car rental lookup and a  full service insurance section where you can view your insurance card and previous insurance claims. You can even get stock quotes and place trades from your phone. Practically the only thing you can't do from the app is add Payees into the BillPay system.
The thing that so far has impressed me the most about USAA though is their customer service. When I first started using my previous bank, I had to call their customer service a couple times. It was a real hassle, and because of that, I dreaded calling them for any reason which actually cost me money on a few occasions. The first time I called USAA, I was on the phone for over an hour, and spoke to multiple reps, because I had a lot of questions and USAA wouldn't let me off the phone until I was fully satisfied. All of the reps were incredible; both knowledgeable about USAA's services and personal finance in general.
Aside from interacting with you guys here on the blog and on twitter, I don't often get the chance to talk with other people as passionate about personal finance as I am, especially over the phone. It was really great to chat with the free financial advisers at USAA who answered a ton of general questions I had about IRAs (I'll be sharing the info with you in coming weeks), and I knew that they weren't going to try and sell me anything because they are not paid on commission. Each adviser I spoke with answered all my questions, and then had personal recommendations of things I should look into. What they recommended were not all USAA products, just types of investments in general that I should be aware of. I learned a lot from those calls and I know if there is anything I am unclear about I can call back and get the information I need.
I do have a small complaint about USAA. I was really excited about the USAA deposit at home feature because this would mean I could completely sever my relationship with my local bank, and deposit any checks I get from my phone on the fly, or from my home using a home scanner. It turns out you can only use this feature if you are eligible for full fledged unrestricted USAA membership and have access to all their service. Because I have no military background, I am restricted from some of the services USAA offers including the deposit at home feature. This really bummed me out 🙁 but it is not a deal breaker.
And one complaint from my wife: Although she really likes how the BillPay system is set up, and how easy it is to use from a computer or my phone, USAA sends actual checks instead of doing electronic transfers or cashiers checks for bills like our old bank did. This means that when we look at our account balance, we have to also see what bills have been paid, but checks haven't been cashed, and I have to leave that amount in my checking account so I don't overdraft. Honestly, this isn't that big of a deal either and we will just need to get used to it and pay closer attention to our banking activity.
Overall USAA has surprised me around every corner. They offer full banking services including tons of investment options, their banking interface is modern and easy to use and their customer service has gone way above and beyond what my previous bank was ever willing to do, and it seems like the people at USAA actually care about me as a person, and my financial decisions. It's just a shame they are still exclusive on some of their service, offering them only to military or family of military personnel. I would love to get my hands on a USAA auto and home insurance policy…I hear the rates are unbelievable…
Are you a USAA member? Full or non-military? Do you bank anywhere else?
Image by J. Money 🙂 br>
If you liked this, please subscribe to my triweekly updates via RSS or Email. Thank you!
Tags: account balances, advocate, android, banks, brain, budgets, card pin, checking account, choices, customer service, day tasks, debit card, interface, little bit, ordering checks, routing number, transfer money, usaa bank